Earlier this year we carried out a survey on the state of digital transformation in Finland. We asked respondents about the role of digitalization in their companies, the motives for undertaking digital initiatives, and the challenges that they were encountering. We found the results extremely interesting, so we thought we'd share some key highlights with you here.
Striving for digital advantage
Digitalization is impacting all sectors of the Finnish economy. For over 70% of respondents, digital initiatives were among the top three strategic initiatives of the firm. These included, for example, renewal of the corporate website, developing cross-channel user experience, and more holistic top-down transformation programs.
Improving competitive position was named as the most important motivator for digitalization initiatives by 40% of respondents. The biggest opportunities were seen in new business models enabled by digital technology (72% of respondents), new ways to interact with customers (70% of respondents), new products and services (68% of respondents) and the possibility to enhance the existing offering (58% of respondents).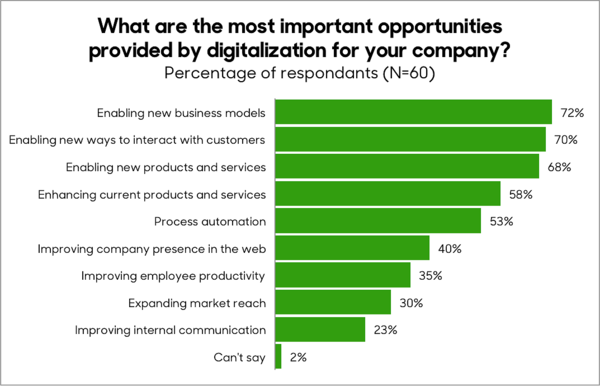 ​We asked: What are the most important roles, opportunities or goals of digitalisation in your company?​
On a scale from 4-10 respondents rate their company's digital capabilities as a 7 on average. Those who rate their companies as being significantly ahead of their peers excel especially in customer relationship management and digital product and service experience. Room for improvement was seen in areas that require cooperation across organizational boundaries and integration of multiple systems such as e-commerce and CRM.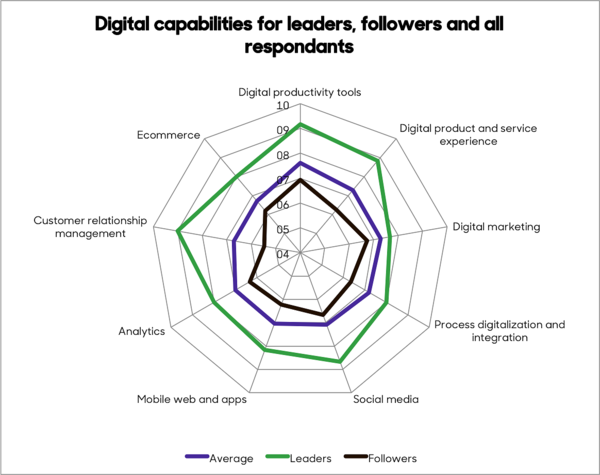 We asked: On as scale from 4-10 how would rate your company's digital capabilities? Leaders indicated that their company was significantly ahead of competitors in digitalization, followers indicated they were behind the competition in digitalization.​​​​​
Digital projects are typically organized under IT, marketing, or as part of business lines. In most companies digital projects are coordinated but not systematically led. Only 12% of respondants say that digital projects are systematically led as part of a project portfiolio and defined innovation process that includes measurement and prioritization mechanisms.
Need for speed
Slowness of the organization was named as the #1 organization challenge in digital transformation (37% of respondents). This seems to indicate that while companies may be able to identify opportunities for innovation or capturing new customers, by the time resources are allocated and people with the right skills are put in place, the opportunity may have already passed. 
Digital transformation entails not only applying new technology but also changing the organization's structures, processes and mindset so that it is able to more nimbly adopt to changes in the business environment. Often this means being more customer-focused, innovative and adaptive to change.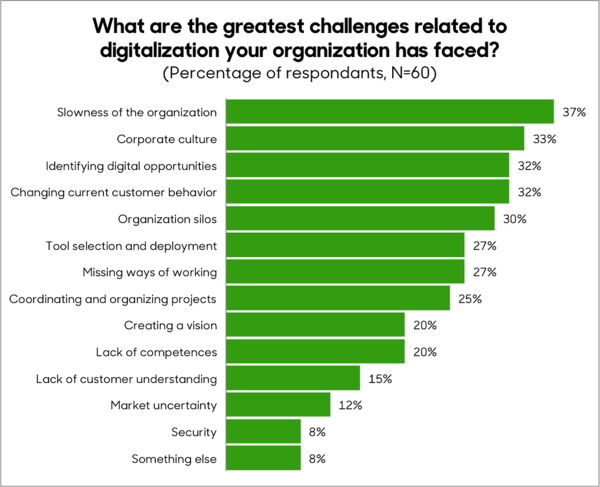 We asked:​ What are the greatest challenges related to digital transformation in your company?​​​​​
A closer look at digitalization challenges unveiled a number of distinctive patterns of digitalization challenges (listed in order of how significant the encountered problems are):
Digitalization problems children (8% of respondants): These companies have problems in multiple areas of digital transformation including current customer behavior, identifying digital opportunities, ways of working, tool selection and deployment, creating a vision and corporate culture (Cluster 2 below).
"Ignorant" slow companies (15% of respondants): These companies are slow because they lack needed competences, tools and ways of working for digital transformation (Cluster 1). 
Rigid, slow companies (22% of respondants): These companies are slow because of their poor ability to identify digital opportunities and act on them due to their rigid organization structure and corporate culture (Cluster 4).
Companies in which current customer behavior is the only real issues (23% of respondants) (Cluster 3); and 
Companies facing no big issues (32% of respondants) (Cluster 5).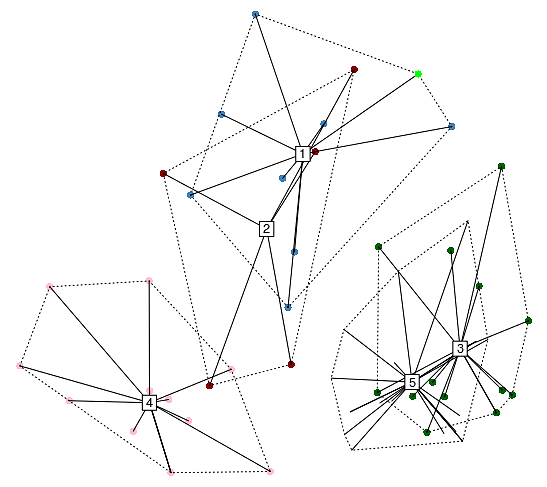 We asked:​ What are the greatest challenges related to digital transformation in your company?​​​​ Cluster analysis visualisation of responses.​​​​​​
Discussion
Being able to take advantage of digital opportunities and turn them into competitive advantage requires both focus and speed. An organization's ability to respond to opportunities, to move into new domains and bring new products to market quickly are dependent on its ability to read the market, learn quickly, to make fast, but accurate decisions, to hire and retail employees with the right skills and to mobilize them once the desired direction has been set.
Here are eight questions to inspire your thinking about digital transformation in your company: 
Where should we focus, what should our strategy be?
How should we steer competence development so that it support the success of the business?
How does digital transformation impacts organization structures and ways of working?
How do we create change fast enough?
How can we simplify backend systems to enable multichannel services?
How can we make the creation of digital products and services fast, flexible and cheap?
How do we engage users and the developer community to co-create digital solutions?
How can we better understand the ongoing changes in user behavior?
If you can answer these questions you are well on your way to achieving competitive advantage from applying digital technology in your business. If you're having trouble with some aspects, maybe we can help. At Futurice, we help companies innovate, build businesses, and develop capabilities.​ Read more about our approach, in Petri's recent blog post.
How the study was carried out
The study was carried out as an online questionaire. The survey invitation was sent to Futurice newsletter recipients and distributed via LinkedIn and Twitter. We received a total of 60 responses. The respondents represent large firms, from a wide variety of industries, serving primarily the Finnish market (73%). Information and communication, banking and insurance and professional services were overrepresented in the sample. A big thank you to everyone that took the time to participate!
Here are a few other recent studies on the state of digital transformation: